Ok Banana Soft Serve is my latest food addiction, I just realized this tonight as I was making it! Lets just say there was an over abundance of bananas in the house (and they were going bad) so I froze all of them! I froze 12 bananas, and that was after using 3 of them to make delicious Banana Muffins! I used
this
recipe from Gina's Skinny Taste, although I just used chocolate chips and left out the cocoa powder!
(Photo from Curious Foodie)
But lets get back to talking about the 12 frozen bananas in my freezer and what the heck I have been doing with all of them! Lets be honest I can only make so many different variations of the banana muffin!
So what have I been making, have I been going bananas over this simple recipe? The answer to both of those questions is YES!
A couple of months ago, well more like a while ago while doing some blog reading I came across Banana Soft Serve on Angela's blog (Oh She Glows). I was curious as to what banana soft serve was. Are you all wondering the same thing right about now? Here let me explain it, banana soft serve is basically frozen bananas blended (in a food processor) until the have reached a creamy consistency. Banana Soft Serve literally looks like ice cream! I was skeptical at first about the taste, I honestly thought there was no way this could be like eating ice cream. Well I tried it, and proved myself wrong. I am now completly hooked on banana soft serve and have even put it in my morning oatmeal (along with peanut butter, taste just like a banana muffin)!
(Photo from the Luxury Spot)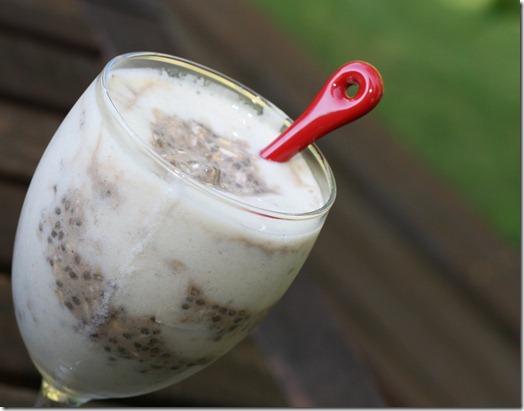 Angela's Banana Soft Serve Vegan Overnight Oats (Oh She Glows)
Check out these links for more details on banana soft serve!
So now you know the answer to what I am doing with the dozen frozen bananas in the freezer. I also think there will be more banana muffin making as well!
Enjoy and remember to live Happily Ever Healthy!
Ps I need to share these pictures with you! I was really proud of my presentation skills at dinner!
Chicken Salad! Yum! Chicken, greek yogurt, Craisons and basil! Yum! I just realized the last time I made chicken salad was pre blog! I will have to post the recipe!!