I was severally lacking on brain power tonight when it came to thinking of supper. I was in one of those moods where I had no idea what I wanted for dinner, and my parents were not being much help either! I kept looking up recipes, but nothing stood out. Finally baked potatoes were decided on. Baked potatoes are versatile and basically a blank canvas. I love that you can give each person a baked potato and then give everyone free reign to do whatever they want with their potato! While the potatoes were cooking a made a quick salad and cut up toppings for the spuds! I dressed my spud up fiesta style with beans, black bean and corn salsa hot sauce and some onions! There was also a bit of cheese! Delicious.
I think I had a veggie overload at dinner, is that possible?
Now lets get onto talking about how I am going to waste more time on the internet! I have been hearing so many of you talk about Pinterest that I decided to check it out today (I was getting sick of job applications, I would much rather look of recipes or things about fashion). Any way I joined the site and have been pinning all afternoon (or looking over everyone else's)! I have to be honest that I sometimes forget that I can just click "Pin It" and the image is then instantly pinned to one of my boards. I have a feeling I will be pinning a lot of recipes through Pinterest, bye bye emailing myself!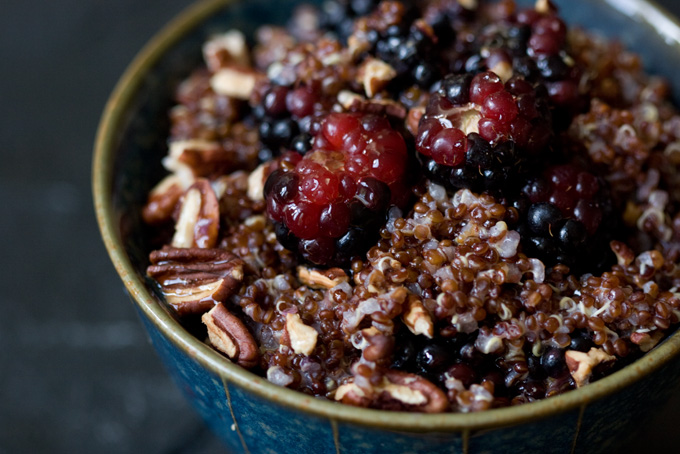 Picture from 101Cookbooks!
I came across this recipe for Warm and Nutty Cinnamon Quinoa while on Pinterest today! I thought this sounded like a fabulous alternative to oatmeal! Recipe found
here!
Check out and follow my boards
here
!
And in other news I got an email today from Melissa the owner of Ecolissa.com. Melissa asked if I would like to partake in her Blogger Discount Program. She gave me 50% of 3 items in her online store (who could resist that), and I then I will review the merchandise I selected on Happily Ever Healthy! I am really excited that she asked me to be apart of this. I cannot wait for my items to come. I picked out a pair of work out pants,
a work out top
and a super cute t-shirt!
But I got the t-shirt in black, I know big surprise there!
You should go and check out her website,
click here
. Everything she sells is Eco friendly and good for the environment. She even has a
blog
! Thanks again Melissa for asking me to be apart of this!
Well I am off to relax, I am getting up super early for a power class (and when I say super early class is at 5:30AM). Then it is off to the twin cities for shopping, I need wedding shoes and I am hoping to find a great dress for the wedding (the one Mark is in)! I am also really excited for tomorrows blog post, I think you guys are really going to like it!
Have a wonderful evening and remember to live Happily Ever Healthy
Ps What do you think of the new design?