Usually when I think of a To Do list my head starts to spin with the millions of things I need to accomplish in a day! Don't get me wrong I am a huge lover of to do list! I love crossing a task off my daily list, it just makes me feel accomplished for the day (yes I am a huge nerd/control freak?)
Well the to do list I am about to share with you today is a completely different type of To Do list. This is a fun list full of fun places to experience in Minneapolis and the surrounding areas! A list full of new experiences, and places I must see/experience!
Think of this almost as a bucket list for Minneapolis, although I think new things keep getting added daily! So lets take a look, shall we?
Many of these are bars, restaurants, theaters, museums and summer events!
Minnesota Music Cafe
Minnesota Children's theatre
Minnesota and Como Zoo-I don't know about you but I am still a little kid at heart and love going to the zoo!
Pier500 is a great restaurant in Hudson Wisconsin, fabulous Happy Hour with a great Patio! This was our location for lats Friday's Happy hour! Guess I can Cross this off!
St croix river
Taylors falls
Treasure Island Casino-Could be interesting, gambling is not my thing! But I am all about the experiences!
Cooper-Local Bar
Bike to Minnetonka-Beautiful Trail, Perfect since the weather is getting nice!
Cannon Valley Bike Trail-Great thing about this bike trail, you can bike to one of my favorite wineries! The Cannon River Winery!
Ordway: Beautiful Theatre in St Paul (Capital of Minnesota, and Minneapolis's Twin City!)
I saw my first ballet at the Ordway, that is where I fell in love with Ballet at the age of 3!
Both beautiful theaters right down the street from my apartment! I used to perform Nutcracker at the State Theater when I danced in Minneapolis! One of the best experiences of my life! And seeing Mamma Mia and the Orphium was a treat!
Grand ol day
Aquatennial fireworks
Williams Peanut Bar-Fun bar in a part of the city called Uptown!
I went to an impromptu happy hour here! What better way to take in the view of Minneapolis?
Nyes Bar
Gashaufs Octoberfest-No need for an explanation
Golfing- I have been told it is a great sport, I guess I am missing out! Better learn how to play!
Run a 5k in Minneapolis
Twins Game-Been there!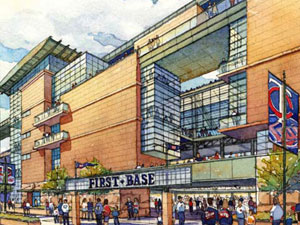 Gopher Game: Gotta see the new Stadium!
Wild Hockey-best sport ever!
Looks like I have my work cut out for me this summer!
Do you have a list of things to do/experience in the city you live in?