Happy Friday Folks!
I have to say it was hard to go back to work after having the 4th of July off! Having a day off in the middle of the week was a bit of a teaser! But it was kinda nice having a day off right in the middle of the week! It is almost like we have two Friday's this week!
Since Tuesday was like a Friday we got our 4h of July celebration kicked off a little early! My friend Katie and her boyfriend Ryan hosted a small get together to celebrate the 4th! Katie planned a wonderful menu, and I immediately went home and pinned two of the recipes she had made!
BBQed Chicken with a Spicy Peach Glaze,
and a Summer Corn Salad!
Both were delicious, and perfect for a 4th of July BBQ!
Brittany of Well This Is Happening
made some of the most delicious chocolate chip cookies (Go check out her blog and score the recipe). I mean I am talking big, gooey chocolate chip cookies, like fresh from the oven soft (so good)! She brought custard along to turn those mouth watering cookies into homemade chocolate chip cookie ice cream sandwiches!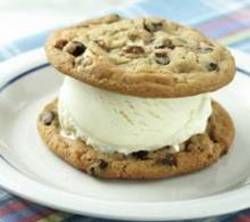 Holy cow were they good!
Despite the scorching heat we all enjoyed good conversation around a lovely camp fire!
Perfect way to kick of the 4th of July!
Wednesday we had a low key day, but it was wonderful! It was nice not to have an agenda and to be able to do whatever we wanted. I enjoyed a relaxing morning followed by a bit of window shopping in downtown Stillwater
We grilled up some delicious Kebabs,
relaxed some more and of course fireworks!
I just realized I forgot to do my sparklers on the 4th! I think I will need to bust those out this weekend!
So tell me, how did you celebrate the 4th of July?
Have a lovely weekend everyone, Happy Friday!